Simple Gifts
Visit our basket table for the gift that is already wrapped and never returned!!!!
Our baskets come in all sizes; small, medium, large, and extra large.  Come on over or call to find one that fits!
304-599-3402  |  866-599-3402
---
We have many snack baskets in different price ranges!
These two items are examples of wine & beer snack baskets.  Both are between $50.00 – $55.00.  Call and order a summertime basket for someone today!  304-599-3402
Send someone a little "Get Well Cheer" with this snacky assortment of goodies including our Get Wellness tea in this Feel Better Soon box.
$62.99 plus tax and delivery  304-599-3402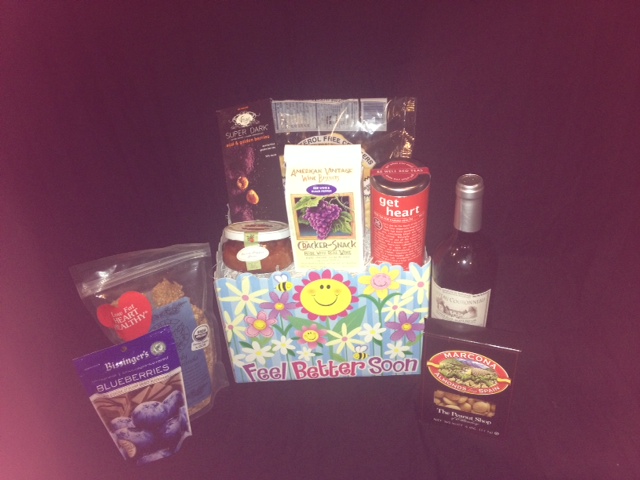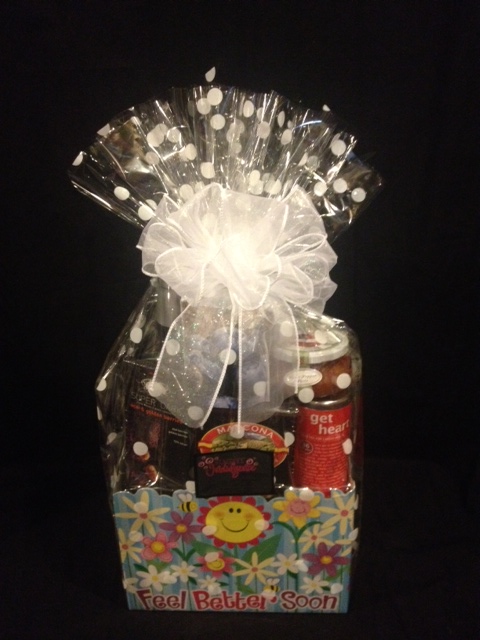 It's a heart healthy "Feel Better Soon" gift!  Get heart tea, dark chocolate, Bordeaux red wine, heart healthy granola, etc., all to make the heart feel yummy!  $72.99
Our $100.00 basket filled with 2 bottles of wine, pasta, sauce, soup mixes and much, much more!  It's going out the door for a new home closing!  This is a great all occasion basket!!!!
This basket was tailor made for a fund-raiser.  It has a red and white wine plus tons of snacks!  Approximately $150.00.  You could be the lucky winner!!!!
Great little basket for an evening of wine and goodies.  Usually, we pair Italian wines with a meal but this Bricco Magno Nebbiolo is delicious all by itself.  Enjoy it with all the wine snacks we've included in this $59.99 basket.  866-599-3402
This smiley face basket full of goodies  was ordered and delivered to a patient and his family at Ruby Memorial Hospital.  Need to send a friend some "Get Well" Cheer????
Teas abound at Slight Indulgence!  We have an enormous selection of bag and loose teas along with accessories for brewing a perfect cup or pot of tea!  Tea Time!!!!
Slight Indulgence Gift Cards!
A great gift for any occasion!
Available in any amount $20 and up
ATTENTION!
Our old gift cards are no longer accepted. All gift cards expire after a year of purchase date.
Use on any of our great products like a relaxing lunch in our cafe or your favorite bottle of wine. You decide!
Can be used at our Suncrest location.
Available to be shipped or mailed to the location of your choice.
---
One happy professional with her customized wine & beer basket for her client. Her basket is a "Thank You" but it also a great way to get your foot in the door when making business calls.
304-599-3402
We have a variety of gift baskets available made to order and already prepared at our 3200 Collins Ferry location.
Please give us a call for more information or to place your order today!
---
At Slight Indulgence, we are doing our best to bring you one-of-kind and personalized gift baskets with delicious food, wine, and irrestible items from around the world. We carefully select each item for every basket providing you with a gift of nourishment.

The baskets we design include:
Snack

Tea

Wine

Beer

Breakfast

Coffee

Italian

And many more!

We also have baskets for all major holidays and any major event such as birthdays and retirements.
Baskets start at $35. Baskets with beer start at $40. Baskets with wine start at $55
Call Suzy today toll free at 1-866-599-3402 or locally at 304-599-3402

---
Baskets for College Students
---
The All Nighter
Chips, chocolate covered espresso beans, pretzels, cheese sticks, nuts, cookies, and chocolate
Small  $45.99    
Medium  $55.99  
Large  $75.99   
Milk and Cookies
Milk (skim, 2%, or soy) cookies, chocolate, coffee or Chai and hot cocoa

Small  $45.99    
Medium  $55.99  
Large  $75.99   
'The Munchies' Basket
Chips, salsa, cheese sticks, nuts, jelly beans, Saranac Root Beer, Ginger Beer,  cookies, and candy bars
Small  $45.99    
Medium  $55.99  
Large  $85.99   
The Home Away from Home
Pasta, sauce, breadsticks, coffee, nuts, and biscotti
Small  $45.99    
Large  $65.99   
The Health Nut
Fruit, juice, nuts, shortbread, mineral water, crackers, and cheese
Small  $45.99    
Medium  $55.99  
Large  $75.99   
The Finally Legal
Champagne or sparkling wine, wine, or beer and snacks
$55.99  
*All basket products are subject to change based on inventory supply.